Multi-recorder TMR-300 Series is a compact multi-channel data acquisition system that can combine various measurement units according to the purpose of measurement. Due to its compact size and light weight, the system can be easily installed for measurement not only on existing structures such as machines and bridges in which the installation space is restricted, but also on moving bodies such as automobiles, aircrafts and ships. For the measurement of automobiles, the system is applicable to sensors used for various purposes of tests including traveling performance, maneuverability, ride comfort and safety
Up to ten measurement units for inputting sensors can be connected together and placed in a small space, or each measurement unit can be installed in the vicinity of sensors by connecting the measurement units in series with a control cable. Furthermore, the use of distribution unit allows synchronized measurement of measurement units installed in a wide area. 
The control unit is equipped with interfaces for control. Various settings and start/stop of measurement is controlled using the display unit. Control is also possible from a personal computer through USB or LAN interface. The built-in wireless LAN enables operation and monitor display using a tablet PC. (Built-in wireless LAN is not available for overseas model.)
In addition, CAN-GPS unit TMR-351 and IEPE sensor input unit TMR-361 are now under development.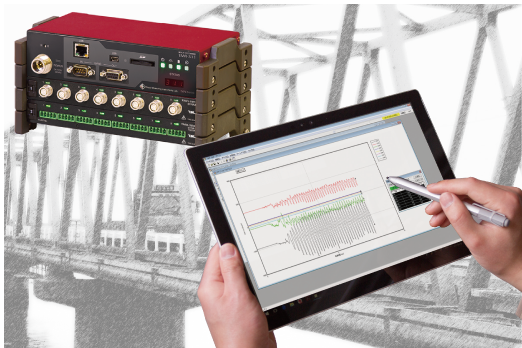 TMR-300 series benefits
Distributed connection 1

The cable between the control unit TMR-311 and the measurement unit is extended for installation of measurement units. The distributed connection allows installation of the measurement units in a small space.

Distributed connection 2

The distance between two control units can be extended up to 100 meters for synchronized measurement in multi-recorder TMR-300 series.
Measurement is possible for multiple points scattered in remote places (320 points at the maximum using four control units).

Distributed connection 3

By the use of distribution unit TMR-371, up to ten measurement units can be distributed with extension distance of 100 meters at the maximum between the distribution unit and each measurement unit. Since each measurement unit is placed in the vicinity of sensors, each sensor is connected to the measurement unit using a short cable. This also helps to save labour and cost for sensor cabling.

Long-time recording possible

Measured data are recorded directly into a computer by connecting the control unit TMR-311 to the computer using LAN cable. This system is also suited to fatigue test because long-time recording is possible without depending on the capacity of TMR-311 data memory or SD card.

Control using display unit

By the connection of display unit TMR-381, stand-alone control of various units is possible including setting, measurement control, monitoring and setting file management.

Control using a tablet PC

A wireless LAN(*) is built in the TMR-311. It enables operation and monitoring using a tablet PC.(*) Built-in wireless LAN is not available for overseas model.
Features
Measurement of 80 points at the maximum (synchronized measurement of 320 points at the maximum by the connection of four control units)

Distributed connection of units

High resolution mode (0.1×10-6) provided (for Strain full bridge unit and Strain 1G2G4G unit)

High speed sampling of 100 kHz

USB and LAN interface provided

Stand-alone measurement using display unit

32GB SD card acceptable

Automatic restart function of measurement after power recovery

UPS (uninterruptible power supply) circuit provided

Operation by DC power source

Excellent vibration tolerance and compact size suitable for vehicle onboard measurement

Optional combination of various input/output units possible

Sensor input units are available for strain, temperature, voltage, etc
System Block Diagram