Dial gauge type Displacement Transducer
DDP-A Dial gauge type Displacement Transducer 10mm to 50mm
The DDP-A displacement transducer is a dial gauge with a strain sensing element and a bridge circuit integrated. The amount of displacement can be checked by viewing the pointer while the output from the sensing element can be used to control a recorder or a machine.
Protection ratings : IP 40 equivalent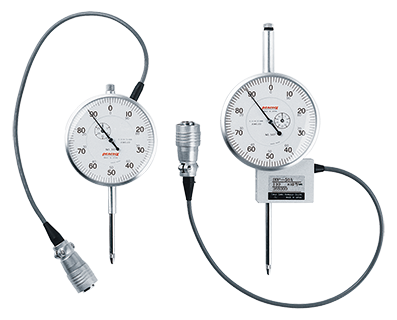 Features

Electrical output and visual measurement
Easy handling
Specifications

Type
Capacity
Rated output
Sensitivity
(x10-6strain/mm)
Non-
linearity
Temperature
range
DDP-10A
10mm
1.5mV/V
(3000x10-6strain)±0.3%
300
0.3%RO
-10 to +60℃
DDP-20A
20mm
150
DDP-30A
30mm
100
DDP-50A
50mm
2.5mV/V
(5000x10-6strain)±0.3%

Output polarity

Measurement moves in the minus direction when the shaft is pushed inward.