Crack Displacement Transducers
KG-A Crack Displacement Transducer
±2 mm/±5 mm 
This displacement transducer is set across a crack on the surface of concrete or across a joint between two concrete blocks to measure the displacement of surface gaps. Its waterproof structure allows this transducer to make stable measurement outdoors over a long period of time. Mounts using an achor bolt (KGF-11) or mounting brackets (KGF-31).
Temperature-integrated model with built-in thermocouple also available.
Protection ratings : IP 65 equivalent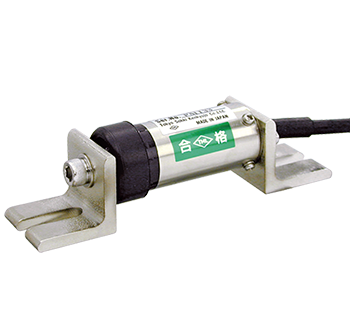 Features

Drip-proof structure
Excellent stability over a long period of time
High sensitivity, High accuracy
Compact, Easy to handle
Specifications

Type
Capacity
Rated output
Non-linearity
Temperature range
KG-2A
±2 mm
Approx. 1.5 mV/V (3000 x 10-6 strain)
0.5 %RO
-20 to +60 ℃
KG-5A
±5 mm
Approx. 2 mV/V (4000 x 10-6 strain)
1 %RO

Output polarity

Measurement moves in the plus direction with regard to an increase of the opening.
KG-B Crack Displacement Transducer X:-2 to +4 mm Y:±3 mm
The KG-B crack displacement transducer is used to measure the displacement in two directions simultaneously: the displacement of openings, such as concrete cracks or joints, and the horizontal shear displacement. It is mounted on a structure by bonding with adhesive. Because the fixing jigs are detachable, the transducer can be demounted and set on a different structure. This allows this transducer to be used repeatedly on different structures. In addition, the small-size feature makes this transducer suitable for indoor measurement.
Features

Compact, Light-weight
Easy to handle
Repeated use
Specifications

Type
KG-3B
Capacity
X-direction
-2 to +4 mm
Y-direction
±3 mm
Rated output
X-direction
Approx. -1 to +2 mV/V (+4000 x 10-6 strain, -2000 x 10-6 strain)
Y-direction
Approx. 1.5 mV/V (3000 x 10-6 strain)
Non-linearity
1 %RO
Temperature range
0 to +40 ℃